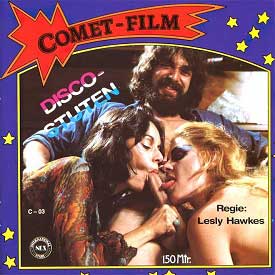 Comet-Film 3 – Disco-Stutten. AKA Disco-Mares. U.S.A. produced, Germany published.
Comet-Film serie. 150 meter. Super 8mm color sex film, featuring Bonnie Holiday, Cris Cassidy, Crystal Dawn, Bob Bernharding, Jack Shute and Michael Morrison.
Group sex, Sexy girls, Mature, Hot body, Big tits, Skinny, Hairy pussy, Blowjob, Anal sex, Double penetration, Straight, Facial.
* AKA M Series 213 – Rock Orgy
3 Disco-Stutten. After the taping in the studio is done, the three backing-girls turn into sexmares that are greedy of semen.
The poor musicians get the very last drop of sperm sucked out of their glans. Blowing, sucking, and unbelieveble screwing cames up.
Size: 224Mb
Type: mp4
Duration: 00:13:15
Resolution: 768 x 576