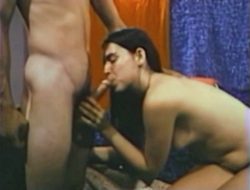 Couple sex – Unknown sex film. US produced 8mm vintage sex loop, with audio (reel running). Unknown cast (f, m).
Twosome sex. Sexy brunette girl. Hairy pussy. Sexy ass. Blowjob. Straight sex. Facial.
My first thought was that film is Adults Only 4, the poster and the set settings fit at first sight. But the film is to short, the description doesn't match… an Adults Only 4 poster copy is uploaded bellow. Any thoughts?
Size: 99.6Mb
Type: avi
Duration: 00:04:27
Resolution: 854 x 480