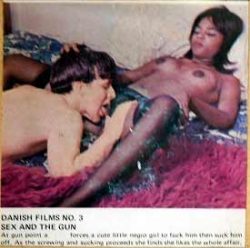 HD Danish International 3 – Sex & The Gun. Danish It'l.
USA published, 8mm hardcore sex film, 1970s. Twosome sex (1 girl – 1 guy).
Interracial sex, Sexy black girl, Skinny, Hot body, Small tits, Bedroom settings, Hairy pussy, Blowjob, Straight sex, Facial.
* Film footage also used for: Minx Film 2
The most exciting sex films yet produced in the sex film capital of the world.
Size: 338Mb
Type: mp4
Duration: 00:09:51
Resolution: 1024 x 768