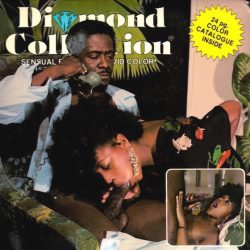 Diamond Collection 54 – Sugar Daddy. Diamond Collection 8mm hardcore sex loop, featuring unknown black female and King Paul.
US produced sex loop. Twosome sex (bf, bm).
Classic, 8mm sex film, Sexy girl, Black model, Skinny, Hot body, Hairy pussy, Sexy ass, Blowjob, Straight sex, Facial.
#54 SUGAR DADDY To get diamonds she knew she had to keep him happy.
She was giving her man a manicure and sucking on his fingers when he decided to give her 12-inches to suck on.
When he was ready to cum he shot his load down her throat and on her lace, she didn't miss lapping up a drop.
He was her sugar daddy, and he was giving her the sugar she needed
Size: 75.4Mb
Type: mp4
Duration: 00:04:55
Resolution: 768 x 576