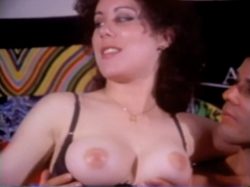 Diamond Collection 264 – Erection Pill. Classic 8mm sex loop, featuring unknown white girl and Don Fernando. US produced sex film.
Since she hasn't been getting it lately, Melissa buys some pills from an alchemist. She slips one in Howard's drink when he comes home from work, then goes into the bedroom to change into her sexiest, sheerest, black negligee. We'll never know whether it was the pill or the sight of Melissa in that negligee that did it, but Howard wouldn't leave her alone all night. There they go again!!
Twosome sex. Brunette girl. Busty. Big tits. Hairy pussy. Blowjob. Deep throat. Straight sex. Facial.
Size: 331Mb
Type: avi
Duration: 00:17:12
Resolution: 854 x 480