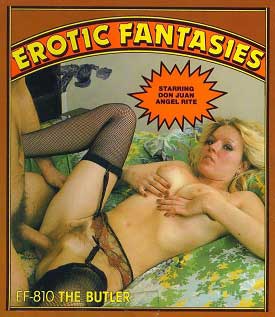 HD Erotic Fantasies 810 – The Butler. Classic 8mm hardcore sex film, featuring Chris Anderson and Rick Toole.
Erotic Fantasies US produced and published sex loop. Twosome sex (f, m).
Sexy mature girl, Blonde, Hot body, Bedroom settings, Hairy pussy, Sexy ass, Blowjob, Straight sex, Facial.
810 The Butler. The butler was only trying to serve breakfast to the lady of the house.
But grabbing his unprotected manhood she orders him down to his knees to eat her pussy and suck on her large breasts.
Her lust drives her to engulf his meat. Finally she commands him to fuck her or face immediate termination. After a long wet orgasm he is dismissed with a warning to maintain family standards.
Size: 86.2Mb
Type: mp4
Duration: 00:06:00
Resolution: 768 x 576
Size: 225Mb
Type: mp4
Duration: 00:07:13
Resolution: 768 x 576
Size: 296Mb
Type: mp4
Duration: 00:06:59
Resolution: 1024 x 768