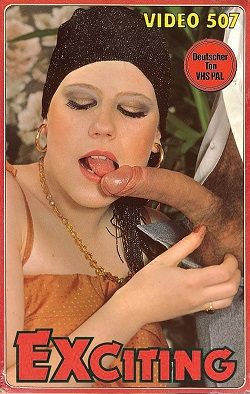 Exciting Video 507. Color Climax Corporation VHS tape. Danish published 8mm vintage sex loops compilation. Exciting Video Programme 507.
Featuring Chris and John Holmes amongst others.
Compilation, Sexy girls, Blonde, Brunette, Skinny, Small tits, Hairy pussy, Blowjob, Fetish, Teenage sex, Straight, Lesbian, Facial.
1. Incest Intermezzo – A randy teenage girl and her equally horny friend enjoy an incestuous threesome with her sex-mad brother. What a scene!
2. Private Party – Two horny bitches get well and truly fucked by a black barman and a lecherous gigolo!
3. Dildo Doctors – Lola gets her tight. young cunt stretched by a couple of dirty-minded, dildo doctors!
4. Naughty Games – A lesbian game inspires 2 chess players to fuck their wives like a couple of "queens"!
5. Wild Desire – A lesbian trick lures a husband into a triangle with his wife and her girlfriend!
6. Oversized Weapon – John Holmes fixes a lady's T.V. then her adjusts her cunny with his gigantic "antenna"!
7. Poolside Seduction – A raving orgy by the side of a swimming-pool. Look out for some sumptuous breasts and a very cute little shaved cunny!
Size: 994Mb
Type: avi
Duration: 00:48:04
Resolution: 854 x 480