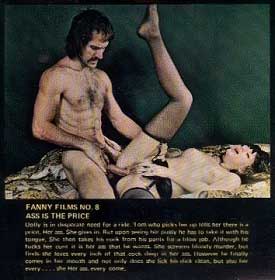 Fanny Films 8 – Ass Is The Price. Classic color sex film, featuring unknown girl and unknown guy.
Fanny Films US published and published loop. Twosome sex (1 girl – 1 guy).
Sexy girl, Hot body, Skinny, Small tits, Bedroom settings, Hairy pussy, Blowjob, Anal, Straight sex, Facial.
* AKA Obszön 4 – O'Popole
8 Ass Is The Price. Molly is in desperate need for a rid. Tom who picks her up tells her there is a price, Her Ass.
She gives in, but upon seeing her pussy he has to take it with his tongue. She then takes his cock from his pants for a blow job.
Although he fucks her cunt it is her ass that he wants.
She screams blody murder, but finds she loves every inch of that cock deep in her ass.
Size: 126Mb
Type: mp4
Duration: 00:08:17
Resolution: 768 x 576
Size: 109Mb
Type: mp4
Duration: 00:08:14
Resolution: 768 x 576