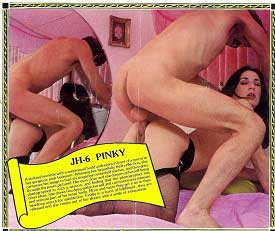 John Holmes JH 6 – Pinky. Featuring Sharon Westover and Ken Scudder.
John Holmes International, Erotic Film series by Swedish Erotica. 45.7 meters. USA produced, 1970s.
Twosome sex, Sexy girl, Brunette, Bedroom sex, Big tits, Hairy pussy, Pussy licking, Blowjob, Straight sex, Facial.
#6 Pinky. A striking brunette with a sensational body undresses in front of a mirror in her gorgeous pink bedroom.
Admiring her beautifully built reflection, she compares her image to that of a magazine centerfold she has, and then goes through the poses pictured.
Her eyes close and she dreams of herself being photographed in such a session, and finding that the photographer has other ideas.
She draws him deep within herself and caresses every intimate and sensual part of his tense body. More and more they get it on in their headlong search for satisfaction.
Finally in a burst of fulfillment, they are released and she comes out of her dream with a smile of exhaustion.
Size: 203Mb
Type: mp4
Duration: 00:06:51
Resolution: 768 x 576