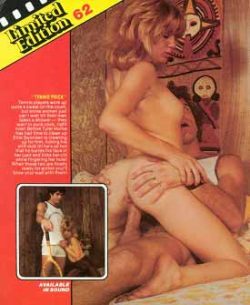 Limited Edition 62 – Tennis Prick. Classic 8mm hardcore sex loop, featuring Ellie Swensen? and Tyler Reynolds.
Limited Films. U.S.A. produced and published sex film. Twosome sex (1 girl – 1 guy).
Sexy girl, Skinny, Hot body, Hairy pussy, Sexy ass, Small tits, Straight sex, Facial.
#62 Tennis Prick Tennis players work up quite a sweat on the court, but some women just can't wait till their man takes a shower – they want to suck cock, right now!
Before Tyler Home has had time to clean up Ellie Swensen is cleaning up for him, licking his stiff dick till he's so hot that he buries his face in her cunt and licks her clit while fingering her hole!
When these two are finally ready for action you'll blow your wad with them!
Size: 106Mb
Type: mp4
Duration: 00:05:29
Resolution: 768 x 576