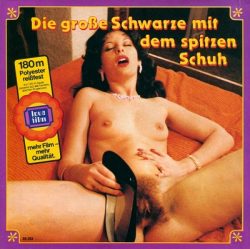 Love Film 716 – Die Große Schwarze Mit Dem Spitzen Schuh. The buxom brunette with the Stiletto. 180 meter. Super 8 color. Hardcore 8mm sex loop, featuring Dominique Saint Claire, Julia Perrin and Sophie Duflot amongst others.
Germany published, France produced, 1980. Sexy girls. Mature. Brunette. Busty. Group sex. Hairy pussy. Hot body. Blowjob. Straight sex. Facials. With audio (french).
Film footage is part of adult feature film: "Hotel pour jeunes filles (1980)".
THE BUXOM BRUNETTE WITH THE STILETTO. High season in the First Class hotel of an exclusive winter sports resort. The bell boy of the hotel is summoned by an elegant young woman to her room and immediately ordered to get down to licking and fucking her. He is permitted to suck the tip for this from her moist slit – a tasty morsel. The young couple watch the buxom brunette with the stiletto, seeing how she massages her pleasure zone with the long heel. Stimulated by this the young people from the next room are quick to fuck on the balcony. Every randy hotel guests have lusty experiences in every variation.
Size: 259Mb
Type: avi
Duration: 00:19:29
Resolution: 352 x 240