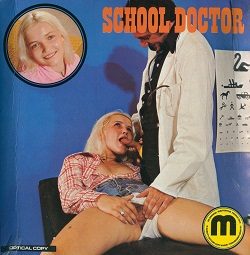 Master Film 1722 – School Doctor. Super 8mm color hardcore sex film, with audio. Master Film loop series, by Filmlaboratoriet A-S. Featuring Christina (2). Danish produced.
Classic, 8mm Film, Fetish, Twosome, Doctor Sex, Teenage Girl, Blonde, Legal Teen, Doctor, School Girl, Skinny, Blowjob, Hardcore Sex, Facial.
Inge is a lovely little schoolgirl who falls in the playground and hurts one of her legs, she goes In to the School Doctor who soon forgets why she has come and instead he begins to feel her lovely bare thighs – she likes it, which she does not conceal, and the situation rapidly developer into hectic sexual intercourse in the School Doctor's consulting room – we see here how a little schoolgirl can absolutely get a grown man to forget everything around him – especially when she licks his prick clean of sperm.
Size: 228Mb
Type: avi
Duration: 00:11:15
Resolution: 768 x 576