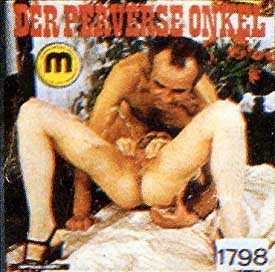 HD Master Film 1798 – Der Perverse Onkel. AKA Perverse Uncle. by Filmlaboratoriet A-S.
Master Denmark super 8mm color sex loop, featuring Rosie.
Twosome sex, Sexy girl, Teen, Skinny, Hairy pussy, Blowjob, Straight sex, Facial.
* Girl also in: Young Anal Sex
1798 Der Perverse Onkel. He has wanted to screw his niece for so long that when, one day, he finally gets the chance he becomes really perverse.
First she has to suck his fat prick, then try a 69er. Later after they have fucked, he shoots his hot sperm over her face and in her mouth – and she loves HIM.
Finally he licks her little cunt to the last drop.
Size: 194Mb
Type: mp4
Duration: 00:07:59
Resolution: 768 x 576
Size: 370Mb
Type: mp4
Duration: 00:08:19
Resolution: 1024 x 768