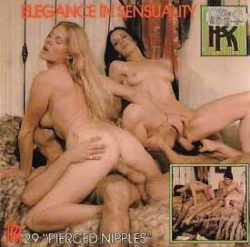 Pierced Nipples. Roger Rimbaud Production 29. AKA Pierced and Pretty.
U.S. produced 8mm color sex film, featuring Cris Cassidy, Sonya Summers, David Morris and Herschel Savage. Group sex (2 girls – 2 guys).
Foursome sex, Bedroom settings, Sexy girls, Mature, Lesbian sex, Hot body, Hairy pussy, Blowjob, Straight sex, Facial.
Size: 138Mb
Type: mp4
Duration: 00:07:09
Resolution: 768 x 576
Size: 138Mb
Type: mp4
Duration: 00:06:21
Resolution: 768 x 576
Size: 145Mb
Type: mp4
Duration: 00:08:07
Resolution: 768 x 576