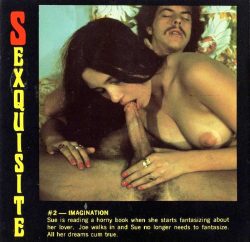 Sexquisite 2 – Imagination. Sexquisite 8mm Color. US produced and published film, featuring Fran.
Twosome sex, Sexy brunette girl, Hot body, Bedroom sex, Hairy pussy, Pussy licking, Blowjob, Straight sex, Facial.
#2 Imagination. Sue is reading a horny book when she starts fantasizing about her lover.
Joe walks in and Sue no longer needs to fantasize. MI her dreams cum true.
Size: 147Mb
Type: mp4
Duration: 00:08:13
Resolution: 768 x 576