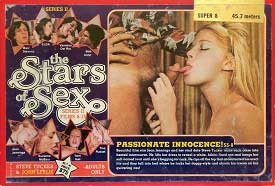 HD The Stars of Sex 8 – Passionate Innocence!. 45.7 meters. Twosome sex (f, m).
The Stars of Sex Series II! films 8-15. U.S. produced 8mm hardcore sex film, featuring Jean Jennings and Ashley Moore.
Sexy blonde girl, Hot body, Hairy pussy, Sexy ass, Blowjob, Straight sex, Facial.
8 Passionate Innocence. Beautiful him star Jean Jennings and her stud date Seen Tucker tease each other Into healed intercourse.
He lifts her dress to reveal a white, bikini – lined ass and bangs her soil-haired twat until she's begging for cock.
He rips off the top that accentuated her erect tits and they fall Into bed where he fucks her doggy-style and shoots his cream on her quivering ass!
Size: 64.8Mb
Type: mp4
Duration: 00:01:57
Resolution: 1024 x 768
Size: 151Mb
Type: mp4
Duration: 00:08:28
Resolution: 768 x 576