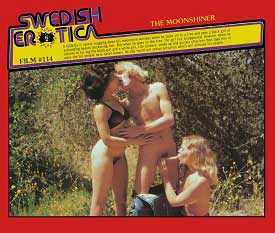 Swedish Erotica 114 – The Moonshiner.
Swedish Erotica 8mm hardcore sex film, featuring two unknown white females and Jesse Adams. US produced, 1978.
Outdoor settings, Threesome sex, Sexy mature girls, Busty, Hairy pussy, Blowjob, Straight sex, Facial.
114 The Moonshiner. A Hillbilly is calmly slugging down his moonshine whiskey when he looks off to a tree and sees a black girl of astounding beauty beckoning him. But when he goes to the tree, the girl has disappeared.
However when he returns to his jug the black girl and a white girl, city slickers, sneak up and quickly strip him then fuck him in ways the hill people have never known. He has found out sexual activities which will astound his people.
Size: 193Mb
Type: mp4
Duration: 00:06:26
Resolution: 768 x 576
Size: 182Mb
Type: mp4
Duration: 00:08:10
Resolution: 768 x 576