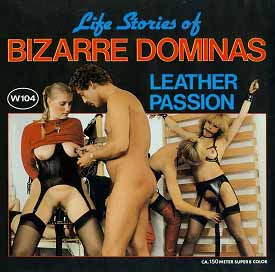 HD Wara 104 – Leather Passion. Super 8 color – 150 meter film.
Wara Film & Ton GmbH loop. Germany produced and published.
Fetish, Light bondage, Mistress, Female domination, Leather costumes, Mature girls, Hardcore sex, Facial.
104 Leather Passion. Extravagantly and arrogantly Madame makes her hot cookies dance uncontrolled passions are wildly loosed.
The Domina with a leather cock, while a lusting fetishist – shags a leather clothed female as if she is possessed.
She has rings on her vulva lips and wanks the love juice full into her face.
The perverse donor pleasurably pisses it all of her again with a hard jet.
A film for the really hardened two men and three women on a trip to the extreme, with good picture and sound quality.
Size: 332Mb
Type: mp4
Duration: 00:19:56
Resolution: 1024 x 768
Size: 204Mb
Type: mp4
Duration: 00:08:16
Resolution: 768 x 576