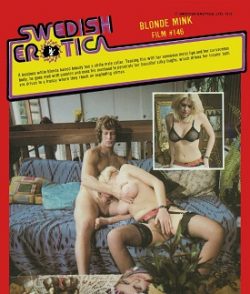 Swedish Erotica 146 – Blonde Mink. Swedish Erotica 8mm hardcore sex film, featuring Sindee Moore and Paul Thomas. US produced loop, 1978.
Twosome sex, Sexy girl, Blonde, Hot body, Big tits, Sexy lingerie, Sexy ass, Hairy pussy, Blowjob, Straight sex, Facial.
Two versions available.
Female ID by walris
#146 Blonde Mink. A luscious white blonde haired beauty has a virile male caller.
Teasing him with her sensuous moist lips and her curvaceous body, he goes mad with passion and uses his manhood to penetrate her beautiful silky thighs, which drives her insane: both are driven to a frenzy where they reach an exploding climax.
Size: 152Mb
Type: mp4
Duration: 00:07:22
Resolution: 768 x 576
Size: 138Mb
Type: mp4
Duration: 00:08:21
Resolution: 768 x 576