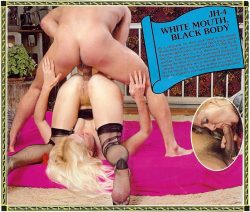 John Holmes JH 4 – White Mouth Black Body. John Holmes International. Classic 8mm hardcore sex film, featuring Cris Cassidy and Billy Dee.
US produced and published. Threesome sex (wf, 2bm). Anal vintage sex themed film.
Sexy blonde girl, Interracial sex, Mature, Hot body, Hairy pussy, Blowjob, Sexy ass, Anal, Hardcore sex, Straight, Facial.
Two versions available.
JH 4 White Mouth Black Body. At a rehearsal for their rock band a voluptuous blonde really gets.it on with two black studs, and as the music gets louder, she gets wilder.
Clothes fly off, and the guys dive in, in a three-way orgy.
Soon another chick shows up and leads one of the guys off, leaving the other to try some uninhibited and excruciatingly pleasurable sex in through the back door! It's too much for her as she writhes in ecstasy, and then he explodes in a burst of unchecked pleasure.
Size: 154Mb
Type: mp4
Duration: 00:07:29
Resolution: 768 x 576
Size: 91.3Mb
Type: mp4
Duration: 00:05:54
Resolution: 768 x 576