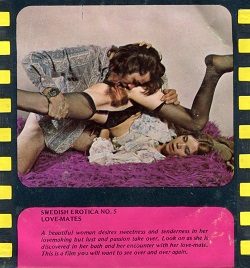 Swedish Erotica 5 – Love Mates. Adults Cinema presents: Swedish Erotica 8mm hardcore sex loop. Unknown cast (f, m). US produced sex film.
Twosome sex, Couple, Sexy girl, Legal teen, Skinny, Small tits, Sexy lingerie, Bedroom sex, Hairy pussy, Blowjob, Straight sex, Facial.
Two versions available.
A beautiful woman desires sweetness and tenderness in her lovemaking but lust and passion take over. Look on as she is discovered in her bath and her encounter with her love-mate. This is a film yo 'a will want to see over and over again.
Size: 109Mb
Type: mp4
Duration: 00:08:19
Resolution: 854 x 480
Size: 3399Mb
Type: mp4
Duration: 00:09:46
Resolution: 1024 x 576