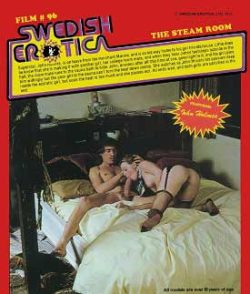 Swedish Erotica 96 – The Steam Room. USA produced, 1978.
Classic regular 8mm hardcore sex loop, featuring Monique Cardin, Paula Wain and John Holmes. Threesome sex.
Sexy girls, Blonde, Meeting, Hot body, Hairy pussy, Bedroom sex, Big cock, Blowjob, Straight sex, Lesbian, Facial.
Swedish Erotica 96. Superstar, John Holmes, is on leave from the merchant Marine, and is on his way home to his girl friends house.
Little does he know that she is making it with another girl, her college room mate, and when they hear Johns footsteps outside in the hall, the room mate runs to the sauna bath to hide.
John, anxious after all this time at sea, goes right to it, and his girl joins him willingly but the poor girl in the sauna can't turn the heat down inside.
She watches as John thrusts his passion deep inside the ecstatic girl, but soon the heat is too much and she passes out. All ends well, and both girls are satisfied in the end.
Size: 144Mb
Type: mp4
Duration: 00:06:07
Resolution: 768 x 576