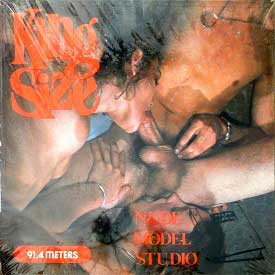 King Size Film – Nude Model Studio. King Size US, unknown number.
USA produced hardcore sex 8mm loop, 1970s. Foursome sex (2 girls – 2 guys).
Photographer, Sexy girls, Skinny, Small tits, Hairy pussy, Blowjob, Pussy licking, Deep throat, Straight sex, Facial.
* First posted as First Audition.
? Nude Model Studio. Ray is taking photography as a hobby and decides to go to a nude model studio to rent couple of models.
He picks out the two of his choice and begins, before long he gets a little too close with the camera and immediately weakens, falling to his knees sucking on one girl's cunt.
The other girl blends in by sitting on her girlfriend's face and gets sucked to ecstasy. They then begin some fantastic threesome sex. The manager walks in and catches the three in the act. He throws out Ray and threatens to fire the girls.
But on second thought he decides that if the girls want some fun that's what he'll give them. He takes them o his room and for a second time some fantastic threesome action.
This part has some great com scenes with one girl blowing him while the other one is tongueing his asshole.
Size: 342Mb
Type: mp4
Duration: 00:15:56
Resolution: 768 x 576