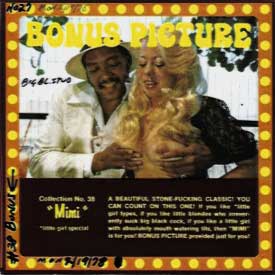 Collection Film 38 – Mimi. Collection Film U.S.A. 8mm hardcore sex film.
Twosome sex (1 girl – 1 guy). Featuring Crissi Stevens and Smokey.
Interracial Sex, Sexy Blonde Girl, Mature, Hot Body, Bedroom Settings, Hairy Pussy, Blowjob, Straight Sex, Facial.
* Previous version: Mimi
#38 Mimi. She's a baby-face blond, with boobs that scream to be sucked and her macho black boyfriend has a cock she just can't keep her mouth away from.
A torrid combination of oral sex and animal instincts – with a delicious and excitingly mouthwatering climax!
Size: 129Mb
Type: mp4
Duration: 00:08:06
Resolution: 768 x 576