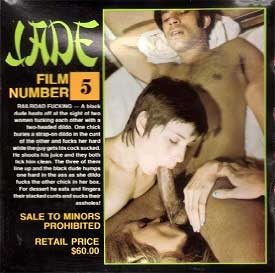 Jade Film 5 – Railroad Fucking. 8mm sex loop, 1970s.
Jade U.S.A. 8mm regular hardcore sex film, featuring Michelle Magazine, Mary Stuart and Mel White.
Threesome sex, Sexy girls, Skinny, Fetish, Sex toys, Blowjob, Straight sex, Lesbian, Anal.
5 Railroad Fucking. A black dude beats off at the sight of two woman fucking each other with a two-handed dildo.
One chick buries a strap-on dildo in the cunt of the other and fucks her hard while the guy gets his cock sucked.
He shoots his juice and they both lick him clean. The three of them line up and the black dude humps one hard in the ass as she dildo fucks the other chick in her box.
For dessert he eats and fingers their stacked cunts and sucks their assholes!
Size: 205Mb
Type: mp4
Duration: 00:09:34
Resolution: 768 x 576