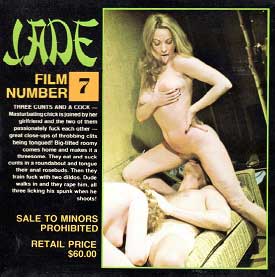 HD Jade Film 7 – Three Cunts and a Cock. Foursome Sex (3 girls – 1 guy).
U.S.A. 8mm regular hardcore sex film, 1970s. Featuring Andrea True and Valerie Marron.
Sexy girls, Mature, Busty, Big tits, Brunette, Masturbation, Sex toys, Living room settings, Hairy pussy, Group sex, Blowjob, Straight sex, Facial.
7 Three Cunts and a Cock. Masturbating chick is joined by her girlfriend and the two of them passionately fuck each other.
Great close-ups of throbbing clits being tongued! Big-titted roomy comes home and makes it a threesome.
They eat and suck cunts in a roundabout and tongue their anal rosebuds. Then they train fuck with two dildos.
Dude walks in and they fuck him, all three licking his spunk when he shoots!.
Size: 330Mb
Type: mp4
Duration: 00:13:11
Resolution: 1024 x 768
Size: 203Mb
Type: mp4
Duration: 00:09:48
Resolution: 768 x 576