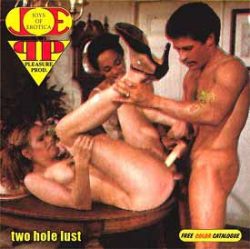 HD Pleasure Production 2107 – Two Hole Lust. U.S.A. produced.
Pleasure Production(s) 8mm hardcore sex loop, featuring Ashley Welles, Rachael Livingston and Billy Dee.
Dinner, Black girl, Sexy girls, Sexy ass, Hairy, Sex toys, Sex from behind, Blowjob, Straight, Anal sex.
* Second version: Interracial loop
#2107 Two Hole Lust. After some champagne, Taylor goes on a rampage of lust.
She gets her girlfriend to eat out her cunt from under the table while she sucks her boyfriend's thick, fat cock.
Soon, with the cock thrusting up her ass and a dildo up her cunt, Taylor is overcome by a series of violent orgasms.
Size: 129Mb
Type: mp4
Duration: 00:06:55
Resolution: 768 x 576
Size: 269Mb
Type: mp4
Duration: 00:05:44
Resolution: 768 x 576