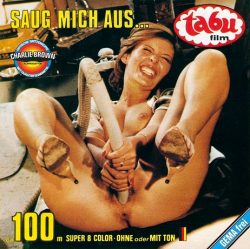 Tabu Film 157 – Saug Mich Aus. German published, French filmed super 8mm color sex loop series: Tabu de Luxe. Tabu Film Programm. Vintage sex film.
Sexy mature girls. Housewife. Hairy pussy. Masturbation. Sex toys. Blowjob. Straight sex. Facial.
SUCK ME OFF … When morning comes, with a bit of luck, you'll get a fuck. This saying is known and appreciated by every housewife, but Sue, a real decorative piece for every household, has to satisfy herself with the vacuum cleaner, for her beloved is fucking his secretary. It's great when the huge vacuum hose gives her damp cunt a real treat, and slips into her greedy quim. It's unique the way her nipples vanish inside the pipe. You've never seen such powerful stuff as this film.
Size: 306Mb
Type: avi
Duration: 00:16:12
Resolution: 854 x 480