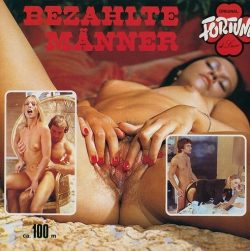 Tabu Film 321 – Bezahlte Männer. French filmed, Germany published film footage, featuring Claudia Mehringer and Siegried Cellier. Super 8mm sex loop series: Fortuna de Luxe. Tabu Film Programm. 100 meter.
Sexy girls. Blonde. Brunette. Mature. Skinny. Small tits. Hairy pussy. Lesbian sex. Straight.
She's blond, young, and beautiful need's men, she's looking for satisfaction wherever she can find it. The cute boy at breakfast, the tough guy driving the taxi, or the charming cavalier in the boutique: they all have to fuck her. All three have to put their hard cocks in her hungrilly gaping crack. The girt, her lover, and every spoiled connoiseur are all completely satisfied. The horny chick is surprised with every new lover she takes.
Size: 325Mb
Type: avi
Duration: 00:13:09
Resolution: 854 x 480